im back from a short holiday. I wanted a relaxing holiday like a trip to cameron highlands or something, but ended up on a food trip. hah. I sat in the living room on the 22nd, eating instant kimchi noodles, watching matrix revolutions. I won't get any of these the next few days. I thought.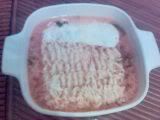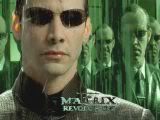 instant kimchi + matrix = utter coolness.
boarded a bus, pass immigration, MRT. Im at habourfort! AKA vivocity.
hungry? kung fu crabs?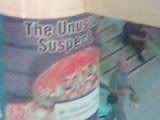 the unusual suspect?
ok. time for food. Im always hungry.
time for some... korean cuisine. ahh.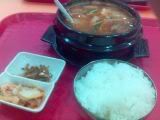 real kimchi?
when I get full, I start to walk. like everyone does. digest the food. I notice vivocity is where the rich and conscious do their shopping. even the floors are sparkling.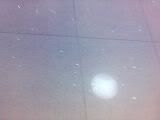 so off, and off I go to toys 'r'us. the other shops are the G200 and prada types. which I won't enter till Im older and richer. looksy looksy, too expensive for purchasing. lol. told you, vivocity is for the rich and conscious.
if there's nothing for me there, I'll get tired of the place easily. so I went to marshall street 4. my granauntie's house -is our hotel for the night.
actually its not very bad after all. I thought katong was a place for pranakans and old fashion people, only. but I really love staying there. there's my granaunt's good cooking, telly with astro, designer toilets, not forgetting air conditioned rooms eh.
and a mysterious bubble cat - i mean a cat name bubble. lol.

what's that glowing stuff?
the location is 100% convenient. 3 shopping malls at your doorstep. cool. just around the corridor there's more stalls - mamak stall, italian stall, ice cream stall, muffin stall, anime + food stall, and 3 internet cafes.no doubt, the internet service is cheap and fast. 1 dollar per hour and youtube loads INSTANTLY. super cool. if only my computer does that.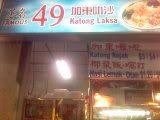 famous katong laksa, anyone?
basically singapore is good for its food. but I still hate the crowded public toilets. LOL.