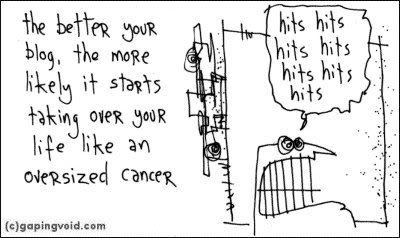 gapingvoid business card cartoons.
Gotta love it.
(yes except the ones with the f. words and maybe some 'male' themed.)
Go for the others. It's cool.
If science ones are Brainiacs, then science twos are bright, therefore science threes are smart.
I really have to thank God for placing me at number 7 in the middle class. Because all I did during the last exam period was: staring blank in the afternoon (waiting for a free internet connection from a base station nearby - neighbor? XD) fiddling around with the piano and violin and harmonica and then going around the internet for random stuff before dinner, opening up a school book (not really reading it) after dinner, drinks coffee, YouTubing, until 1am the next morning. Then I do hardcore last minute 2 hour studying, then bathing(lol), then 92.4fm, then 2 hour nap before the midyear paper the next morning. Booya. I have to try harder. I know I have to. And Fatin who sits besides me got First. Again. CONGRATS YEAH.