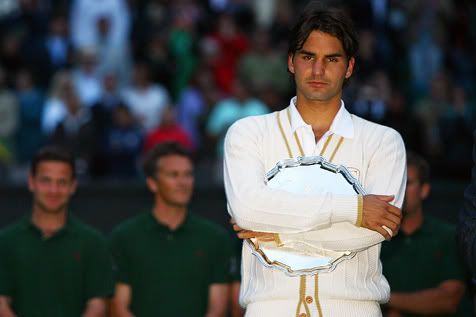 Nadal stole his crown after all. damn
That
was
heart wrenching
=(
Early this morning I found myself plugging in my dad's mobile modem into my computer's USB. And then logging on to Wimbledon's site.
And was exasperated with Nadal's picture on the front biting his trophy.
The picture of Nadal holding the trophy actually appeared in my dream that night they were playing.
Thanks to the scary scores on the slamtracker.
Federer lost his 'Grass King' title, I guess.
(Fatin was clearly devastated by the news this morning)
A final match that took 4 hours and 48 minutes, woah that was seriously thrilling. Epic.
It was the longest lasting finals match in history ever.
6-4
,
6-4
, 6-7, 6-7,
9-7
. Unbelievable.
Rafael Nadal was at his best, I guess Federer wasn't at his. That explains it.
But I believe he'll be back. Ain't retiring to call it a career already.
Well,
hoping
Federer ends his season with a Grand Slam title at the upcoming US open.
Hmm. Maybe when you're 26, and your opponent at 22 probably has better advantage when its a really long game. =/
I still root for Federer.
If you can force your heart and nerve and sinew
To serve your turn long after they are gone,
And so hold on when there is nothing in you
Except the Will which says to them: 'Hold on'

Hope to see you at your crest of wave again!
_____________________________________________________________________

Anyway, T'ang Quartet (International Award Winners) played really well at Johor Arts Festival yesterday night.
Dynamics were outstanding and they were energetic enough to bring out the essence of the each and every piece.
These guys were pretty down to earth, too.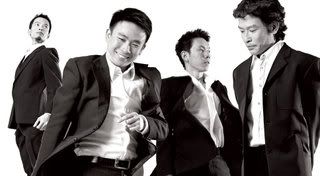 Sometimes, I wonder why I only need to pay 15 bucks to watch MPYO, and 5 bucks for a T'ang Quartet's performance. And those rock concerts out there can cost up to a freakin 500 bucks.
Learning classical music takes years and years of practice to master.
Rock music, well, maybe because they are an old, experience, and phenomenal band like U2? Acceptable.
How about those Taiwan artists that take less than 2 years to get unreasonably famous?
A friend had an opinion that a part of the ticket money goes to fan clubs so that there will be fans to support the pop group.
Umm. Hah.
If that's so, its rather pathetic.
I think a large sum money goes to the music producers. Because most of them don't actually write their own songs and play the accompanying instruments - guitars, drums, etc. (Except for real talents like Jay Chou.)
How about Good looks?
Maybe Larh.
Not-so-worth your big bucks.
5 bucks is too worth it for a spectacular performance yesterday.
Furthermore there were free cake samples.
Cakes that taste heavenly made out of
Mille Crepe
. Superrb.
(I felt like a greedy bastard who is only interested in eating all the samples. Well. My friends did the same tooXD)
And then a dose of Classic Cars during the intermission. Beetles and Minis and Morris' and Alfa Romeos. Very Cool.
The repertoire was well balanced.
Kreisler's Liebesfreud was one of my favorites.
Its sounds cheery =D
Next time I'll make sure I bring more friends.
There are a couple of buddies around that would really enjoy this as well. =D
hah.