I've been doing nothing lately.
I NEED to get a Book >.>
Christmas this year was simple, with a Christmas eve dinner meeting some of my school mates and friends.
Christmas day itself was my first driving lesson! My teacher was asking me whether I have driven before, no. Driven a car at the arcade, no. Actually yes, without a token in the machine. Driven a bumper car, yes. ahah. I was happily driving around the circuit at slow speedXD Parking part was the worse, because they used the formulas in order to pass the JPJ test. But every time my parents parked a car, I used my instincts to park the car although I'm not in the driver's seat.XD.
When is car number plate JUL 14 coming out? I'm booking it 8).
Nobody wants number 14 right? I'm not the superstitious one so I can have it for myself XD
My relatives from Malacca was already in my house when I reached home that Thursday.
At night we went to a friend's place to have dinner. They were rich people alright. The catered a big dinner with lambs and a turkey at a nice and big cluster style house, but that, its not my taste for my future house=D
Nowadays I don't get jealous over people that own big houses with plasma TV's every nook and corner of the house.
Either I'll live in a cosy small house/wooden cabin by a countryside or a big one with a long window at the front, up to the top with the least furnitures around. Big halls. =D
This Christmas I received less presents, oh yes the numbers of presents I received are decreasing by the years, at least this year I get chocolates=D My dad asked me what I wanted, but I had nothing in mind. Resulting in zero presents from my parents. But yet I wasn't disappointed. I wanted a camera though, because my phone's camera wasn't functioning since midyear. Ah that phone has caught the HIV. The systems are slowly shutting down. Once in a while it revives when it gets an immunity jab. But I still can make calls and send messages most of the time so I hope it stays like that till I get a free phone from Singapore. Why should i waste parents' hard earned money on a new phone when I could get a new phone somewhere next year?=) My dad has 3 functioning cameras. One pocket Panasonic Lumix which he uses for work, one Nikon D90 (it's a pretty DSLR, shoots really fast and beautiful stuff =/) and a Konica Minolta amateur camera. I used the Konica Minolta for awhile, but it's kinda slow. It saves the previous picture too slowly thus making you miss the moment you want to capture. Kills my intention of doing photography with my dad these holidays =S And a new camera for Christmas wouldn't be such a good idea.
Russ is still missing.
25th December marks the second week.
Oh yeah and Apple flooded my inbox with TONS of Advertising emails this season. They wanted people to get their products as Christmas presents. Apple and their money making workaholics. Marketing. Same goes to every producing and manufacturing companies LAH. Money making bastards exploiting the good ol' season. Blatant commercialisation X(
iPhone doesn't have a front camera, YET. Boo.
Its been a month since the last paper but I have done nothing productive. Seems like I haven't touch books in a century. Not even a story book/magazine/newpaper. Feels like knowledge is draining from my head.
Watched anime though=D
Finished Itazura na Kiss, and Nodame Cantabile Paris. teehee.
Itazura na Kiss was stupid at the beginning but things gets really cool when it reaches the hospital scenesXD Irie Naoki's a high IQ genius guy who is cold blooded, which made things better, and it was worth a laugh. Kotoko the girl with a lower IQ went through lots to get her dream realized. And... YUUKI! I love that little mischievous plumb boy who grew up to be such an understanding teenager =D Anyway, the aimless genius became a pretty good doctor. The nurses were all head over heels for him. Kotoko still looks like a high schooler after so many years.
Nodame Cantabile Paris was yet another detailed one, with fantastic music again. Nodame was funny as ever, same goes to Chiaki with that shocked look on his face every time something unexpected happens XD And new friends from Paris!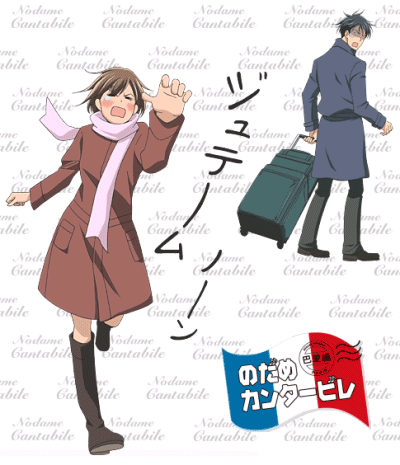 gyabo! mukya! boheh!
Still reading its manga. Their stories never fail to amuse me =D
I'm still in the midst of watching the Taiwanese Drama, It started with a kiss, the real live drama of Itazura na Kiss manga. Its quite old already, but since I have no new movies to watch, its the only one at home that Cal lend me. Actually, I wanted Corner with Love but she handed me that instead since it wasn't with her that time=/
So I had to finish Corner with Love on YouTube. Nice story=)
It started with a kiss, was so-so. Don't really enjoy it though. But I like the little boy who acted as Yushu. It looks exactly like Yuuki in the anime! And Zhishu's studio apartmentXD Cosy=D
Today, I had my fun at Hutan Bandar. Its been ages since I went there.
Went there with my 2 baby cousins, but my mum and I ended up trying out all the adult's playground and obstacle courses and the foot reflexology XD
It look me some courage to try out the monkey bars. Boy it was pretty high up. Now both my hands have blisters due to holding those bars. Its the same kind of blisters you get when carrying a stretcher with one hand with another 3 persons, of course with someone heavy lying in it. There was some art exhibition there too.
And then I had an unexpected lunch treat from Teacher Hui kee.
It was the Children Church worship team gathering and farewell for Joanne who's leaving tomorrow for NS! Gambate! I hope NS trainees will get to play monkey bars and obstacle courses as well=)
Yesterday I dreamt about Solid Coloured Sofas and Beanbags, purple, yellow, green and blue. Pouffe style. Maybe I should realized it and maybe the Ikea would accept the idea in my night time dream. Lol.
Seeing my little cousins growing up to Jon driving me home with Ben a teenager and Naomi going on to form 4, these scenes always make me wonder what will the future will be like=D
Signing off.