today, I went to carrefour.
follow the rules.
apparently I went around looking for food samples because I knew dinner is gonna be late.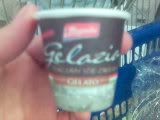 italian ice cream, I took it twice.
ice-coffee. not bad.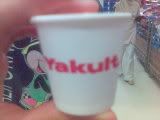 yakult?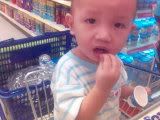 marigold yogurt. my cousin ransacked it. I had to get it twice for him.
then I went to gummy section.
my father said, no trying arh.
I looked around. No salesgirl.
I opened the gummy box and popped one into my mouth.
before leaving, I turned around to see whether there was any salesgirl.
and there it was, a half dead sales woman.
so I had to buy some stuff in case i get into trouble.
I got the stuff onto the weighing machine.
she really looked semi-conscious.
she actually spoke to me: aiyah...i three days din sleep edi larhh... walao...the customers test eat sour plum arh...complain sour sour duwan buy...face sour sour...
then I was, okay.. maybe she saw me eating the gum.
O_o
I wanted to turn and run when I saw this:
no testing-just above the gummy box.
lolx.
I ran away.
i ran to the paying counter where my parents, was with my head facing down.
my dad said: eh why you like twohill arh? your hair like that wan.
T_T
three groups of people said I look like that disgusting fella.
*no offence to his fans.
by the way, I was happy to return home with my fav keropok roda. lolx.