there's my samurai dog. He got that mark on his forehead, himself. Nobody in my home is that free to do that to Russ.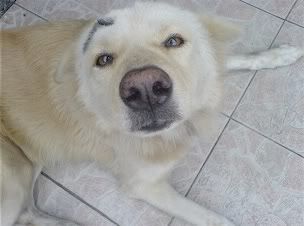 Not forgetting,
Happy Sweet 16 to YiTh'ng!
Classmate who sits beside me,
and teammate that stands beside me!
P.S. Having birthday this time of the year is Su-weeet. Unlike mine. What days. This is the second time I post a wish for Miss Yithng on my Personal Blog. Wuahahah. >.>
And then,
The next ten Episodes of PoT. Love 'em. 
Ep41
Ep42
Ep43
Ep44
Ep45
Ep46
Ep47
Ep48
Ep49
Ep50