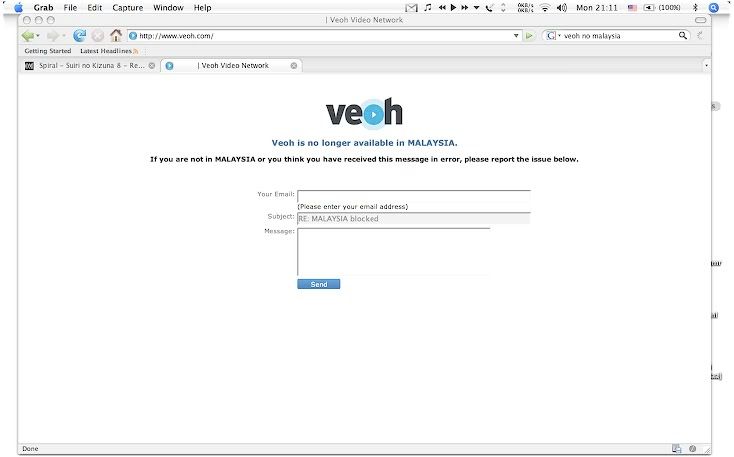 There. The irony of living in Malaysia.
VEOH HAS BANNED US.
(and I thought it was a total joke at first)
What's the point? Huh?
Apparently they have a 'low concentration' of Malaysian viewers on Veoh.
Now I have to say that Veoh is a very efficient video streaming website.
You can find a lot of good quality(big files, but fast streaming) and 'youtube deleted' videos there.
Like Anime and stuff.
I downloaded a few complete series from there also.
Sigh.
If only I knew how to use a fake Proxy address telling the cyberworld 'ain't from malaysia, I'm from the states(yea, free walmart soundcheck tracks).' lol.
Nay, I'm not so bad though.
Just that sometimes we have deficiency of a little this and that, Here.
It's a good thing I won't have to do my tertiary education here after all.
Half a year more, and then VEOH HERE I COME AHAHAHAH
____________________________________________________________________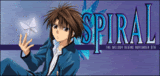 Finished
Spiral: Bonds of Reasoning.


It was cool. Children have great abilities.
Brilliant minds. And the corrupted world.
Need some brains to watch this.

Random Old Chinese translated Manga I picked up for RM4.50.
Looks like another music one, besides, Nodame Cantabile and La Corda D'oro.
Fairly Interesting. It's new. Not found anywhere online, yet.
Got kinda 'looked down' by some friends "You can read this meh."
(Yes I can. Just that it takes 3 times longer than the time I take to read an English one. Pardon me.)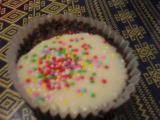 And Some easy baking I did. Bored.
It wasn't as nice as those you see in pictures.
But mine is a Chocolate Chunk Brownie with White Chocolate Toping. Solid.




Countdown: 5 Days Left.