Look, it's 4:12 in the morning.
(yes, 4:12 is a Switchfoot song, remember that. =D)
I drank coffee in front of my mum to please her - yes, I play all day but I study at night>.<
 The truth is I remembered I had Moral Folio to finish. 
I know myself well enough. 
I ain't motivated to do this kind of stuff. 
Especially when nobody pushes me. No. Punishes me if I don't pass Moral up. 
And my datelines for things that doesn't interest me are super elastic. 
I don't know. 
To me this is kind of useless because I don't seem to be a better 'moraled' person in the end. 
Oh yes. Maybe because I scored badly that's why I ain't so 'moralised'. 
Well. I just had to rant in the middle of the night after copying. 
Er. 
Getting points out from a friends' moral essay(yes, what is a MORSAL ASSAY, if you're from another country) and adding some stuff of my own. 
Mercy got me the completed copy of it. She's uber efficient in these kinda jobs. heh=D 
yes after a few hours of writing crap, I'm here. I can't SMS anyone because my sim card's blocked today. (oh wow. DIGI is so calculative on the timing and stuff and what time you are banned from using your phone because you damn prepaid had expired. Come on.) and probably 96% of JB is sleeping. 
Maybe Mr Yip is not.
He's in the night club. 
I swear he is. He know what's in the night Clubs. 
And he was a bit. NO much more crazy than usual in -yesterday's 4.45pm class.
One of the bolts must be loose. 
"VEGETABLE CHOP GOT NO BLOOD, RIGHT??" (yes, there's blood because the VEGETABLE IS A VAMPIRE, MR YIP!)(YAY)(I OUTSMARTED HIS WACKYNESS TODAY)(YATTA) 
don't wonder. Because I cannot figure what he was trying to explain also. 
"Electromagnetic induction is JUST LIKE JB TOWN." 
don't wonder. Because I cannot figure what he was trying to explain. ALSO. 
Still. 
Thank God we have 2 hands. It makes life easier, doesn't it. 
Switching hands is fun. You gotta try it. I revived my 'once useful hand' within half a year. Yes I've used it for some writing every once in a while last time. But it's fairly possible to do such thing. Hola. Check this out.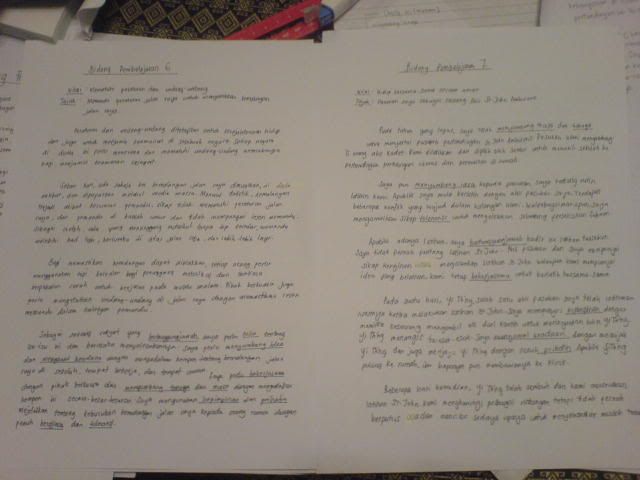 Not much of a difference, eh? (Handwriting was already bad in the first place, don't snort.)
Left pic is Right Hand. Right pic is Left Hand.
Right pic was more senget'ed (crooked) in the beginning because my hand was blocking the light source. I couldn't see the lines on the hidden testpad below it.
Right handed writing is the neater one, still.
Left handed writing is STILL the Wackier One.

4 Bidangs.
One hand 2 Bidangs.
Not bad eh.

By the way, that was crap I wrote/copy=S for the past hours instead of snoring away in dreamland.
Ha.


F5 is done.
Suprisingly F4 isn't done yet.
Don't give a 'Huh.'


I thought Tesco coffee doesn't work on me, it tasted nothing else other than sugar water.
I gave 2 packets a try last night.
And here I am. Wondering whether to watch a movie or to head to bed>.< 
GEEKS WHO APPLIED FOR THE ASEAN SCHOLARSHIP.THEY

MUST

BE STUDYING NOW.FUH.
I feel the adrenaline rush and diurectic functioning in my body.
I want to get up and run the treadmill or play some tennis. Wii oso can.
And the loo.
I can Power through Scherzo 2 ten times without sweating.
Even doing it once needs a minimum activation energy, which is fairly high.
I have the confident I can wake Taman Melodies when I start it.
Although it may sound bad.
Hmm.