After 3 days of window shopping with my cousin and aunt, I headed of to camp!
But actually I was feeling the tiredness coming out from somewhere, body starting to fatigue; and I woke up feeling drowsy, at 8 plus in the morning for camp RYLA (Rotary Youth Leadership Awards).

In the bus I bet 70% were lil annoyed because the bus was force to be noisy and active and we couldn't get some decent sleep. I slept anywayXP
First day we got assigned with rooms and fortunately I get the same room with my school peep, Wenli and 2 Melakans. Right next door was Sara and Kim, a Melakan and a Singaporean.
The Singaporean was Sippy. And she smelled of mosquito repellent when we went for lunchXD
The Melakan in Sara and Kim's room was Lem. She looks very much alike Jia Hui my primary school mate, except that Lem looks younger and has a very cute, soft spoken voice.
The other 2 melakans in my room was Ming Choo and Chai May.
They were nice people.
And they kept me in company while waiting for time to pass.
This is the No.1 camp that I've attended which has so much free time, because I expected it to be real packed with activities because I've attended many camps, and boot campsXD. It wins over the National Camp Singapore, another free and easy type of camp.
After every activity we get to slack around a lot. Lying down on benches and staring into space for a very long periods of time. The timetable isn't followed properly. And since I know the pattern of the camp is like that, I get to wake up the latestXD
And there's this Singapore Rotarian who barks commands at us, when its a free and easy camp. Well, it doesn't really suits the mood actually. But that guy seriously looks like this cartoon character: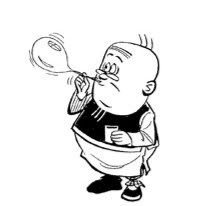 Not only looks like it, I think he acts like it too.lol.
The Hot Air Balloon. Ah. It was supposed to be the highlight of the event.
But since its not free flying, we didn't need the wind to be around.
Because if the winds' around, the stationary balloon would be unstable and deflate easily.
But we're at Sedili. The beach. The Bayu Laut was exceptionally strong so the balloon didn't had much time being steadily inflated.
And the orange shirt people were busily flooding the little basket once the balloon was successfully inflated.
And the brown shirt people had no choice but longingly wait for their turn.
Less than half made it into the basket and fly up. And it really disappoint many.
I was half lucky. Got in the basket. It was almost going to fly when the see breeze came along to deflate the balloon.
I felt the heat. Real heat when the balloon was being inflated.
But,
at least
I got to take some pictures though.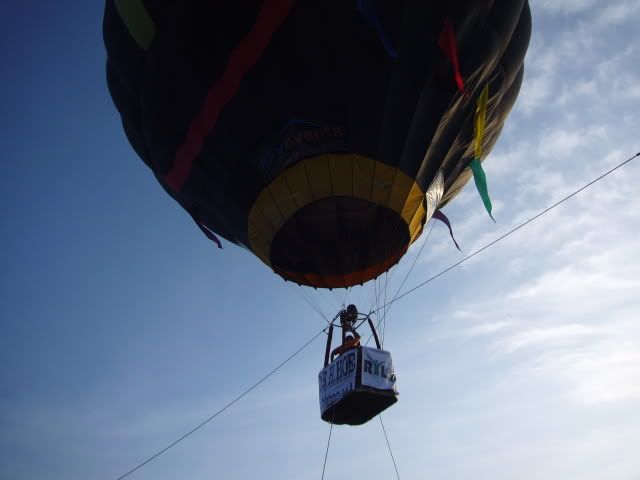 Orange guy in the balloon.
If I could use a hot air balloon to describe 'life', it would be:
Life is a Hot Air Balloon, you will never know what is ahead of you which makes the whole adventure interesting.
Enough of the hot air balloon part.
Team leopard.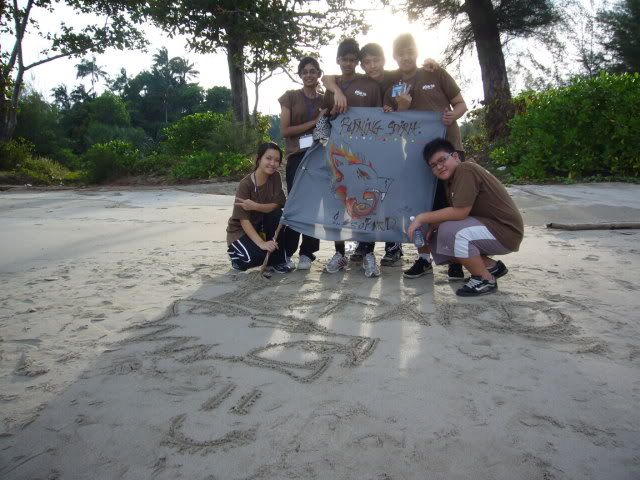 Not everyone's in the pic.
Everyone suggested a name and I came up with leopard. Can't think of any other animals
except leopard because it was apple's newest operating system. heh.

We decided on team phoenix at first.
Then just before our presentation of the group cheer another team when up to present theirs.
Guess what, they used team phoenix; and we already composed a cheer specially for phoenix>.>
Immediately we changed it to the second choice, leopard.
And the Rotaractor mentor wasn't very helpful throughout the group cheer thing.
The last minute short cheer was something like, 
North, south, east, west;
leopards leopards is the best.
Was the last group to present it and kind of screwed up.
No other group knew about this case.
My team consisted of 11 at first. 
We did a personality test thing, which I did before on the internet.
Well most of our team was the peaceful/perfect type.
No 'powerful' people at all, and only one 'popular' person.
That means, no extra outstanding people in our group. 
Our leader was chosen.. maybe because he was bigger in size? Perhaps that was a factor that makes him a lil more 'outstanding' than the rest of us.
After 4 days I've known each one of them better.
We were all 16's and 17's.
There's the Melakan leader we unanimously decided on.
There's the 'very blur to the extend makes it cute' guy from segamat.
There's a 16 year old Melakan girl who can make a good team leader but have absolutely no courage to.
There's a Labuan girl who wants to be heard in discussions and pretty scared to lose face in front of other teams.
There's a indian guy who left for mumbai on the second day.
There's a 13 year old Singapore guy who reap the skunk keychain in minutes it was given to him, and who is also the artist who did our handsome flag.
There's a quieter girl from mersing.
There's this 3 girls, 2 indian 1 malay, who end up in our group by switching places. They were eating biscuits and cakes openly in front of lecturers in every classroom session. And earphones forever stuck in their ears.
And since we were all made up of quite similar people, we want things done in the same way, although our ideas did crash sometimes.
We planned talent night the first day and could tell that the 3 girls weren't happy with ideas we came up with. But finally we just settled on one. Mean, if no one compromises things would never get done. So majority wins.
We were going to do a skit on talent night. It was about a boy who wanted to become a chef but the people around him was discouraging him but his professor supported him and he made it big.
Well it did took us quite sometime to discuss and planning and practice, yes until the very last minute. That's how people of perfect/peaceful characters are. They want things to be done properly and are good workers. That's so us.
We managed to pull it off during the night. Got fourth placing.
This shows what happens when peaceful/perfect people come together as a team. We'll do well, but not number 1.
Ok even though we weren't as outstanding as the other groups, we had equally outstanding members who learned to compromised and pulled through. By the 3rd day we were talking non-stop. heh. Randomly put together as a team, randomly made some friends, worthwhile.
Classroom sessions, they weren't good enough to 'discover the real me' actually. Unless you have some serious personality problem=/
Maybe team activities might bring the theme out more. My dad asked did we play the war game. Nah.
But, good chance meeting people for once.
I still want my Camporama. Grr. 2012.
And I don't mind JTC/JLTC. I'm ready, anytime.