my gosh I can't believe it I'm actually having an off day in this hoildays. Finally. I get to replace all the sleepless nights that I've been having for the last two months. yay.
guess what today my cousin's coming. another yay. Why another yay? becuase I need not spend another boring christmas with the same old people in JB. This time, I got relatives! YAYAYAY. Like fann normally goes back to KL to celebrate christmas with her cousins. Not me. sobz. I stay at home in JB like a little depressed kid. Or should I say emo. no. Normally I would meet relatives during chinese new year. which was normally a super boring season. Probably the most exiting part of that season was getting money. money. more money. hahah. I spend 90% of my time isolating my self from the others. I dunno why. I just dun enjoy the red season. But when any of my relatives comes to celebrate christmas in JB, it seems so much fun. Guess what, I just need a switch of people around me lar.. for once. Except maybe for one group. my cadet friends. They can be with me 24/7 and still I won't feel sick being with them. Whether christmas or chinese new year. Love them.
Ohya. I dunno when my movie marathon will take place. Pehyee reminded me to do it since I failed to conduct a movie marathon last may holidays. LOL. But I don't think I have any time left. Maybe christmas? maybe not. My aunts will sure make alot of noise if I do that because my little cousin are sure gonna follow my bad example of spending the whole night watching movies and sleeping in the morning when the movies are done. Maybe Lord of the Rings. I haven't watch the whole thing for quite sometime already. The last time it was played on channel 5 I just got a short glimsp of it because my parents were nagging to eat dinner. I already have the whole set. Why should I watch it again huh? Only one answer. The movie is good. I don
t mind spending 12 hours in front of the telly if its a good show. Ohya. If only LOTR can be done on english literature. HOW COOL IS THAT. can't believe it that malaysia's form 4 literature syllabus is actually on Lord of the flies. damn the system. We should have rights to choose our own story we wanna do for literature. OR they can straight away raise the standard by letting us do Lord of the rings, true?

by the way I've been spending 3 days on this one. Glory road. Only spend time on good movies. I don't have much time in front the telly, either. hahah. am I so discipline? okok.. just kidding.

Glory Road.
another encouraging team spirit movie. something like remember the titans. Just in another form of ball game.

"Glory Road" tells the inspiring true story of the underdog Texas Western basketball team that surprisingly won the 1966 NCAA tournament title. With history's first all African American starting lineup of players, the team had to face not only their opponents, but also the cultural turmoil and animosity that existed at the time. Josh Lucas stars as Hall of Famer Don Haskins, the passionately dedicated college basketball coach who changed the way America thought about basketball, and in turn, changed the course of history."

that's the storyline.
talking about titans, I just watch it 3 days ago in camp.
"Set in Alexandria, Virginia, in 1971, the fact-based story begins with the integration of black and white students at T. C. Williams High School. This effort to improve race relations is most keenly felt on the school's football team, the Titans, and bigoted tempers flare when a black head coach (Washington) is appointed and his victorious predecessor (Will Patton) reluctantly stays on as his assistant. It's affirmative action at its most potentially volatile, complicated by the mandate that the coach will be fired if he loses a single game in the Titans' 13-game season. The players represent a hotbed of racial tension, but as the team struggles toward unity and gridiron glory, Remember the Titans builds on several subplots and character dynamics to become an inspirational drama of Rocky-like proportions."
and another inspriring one. miracle. watch in camp last year.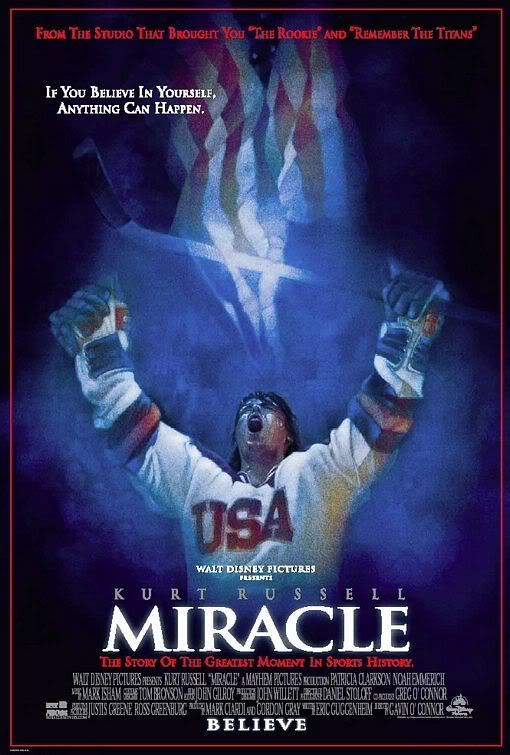 The inspiring story of the team that transcended its sport and united a nation with a new feeling of hope. Based on the true story of one of the greatest moments in sports history, the tale captures a time and place where differences could be settled by games and a cold war could be put on ice. In 1980, the United States Ice Hockey team's coach, Herb Brooks, took a ragtag squad of college kids up against the legendary juggernaut from the Soviet Union at the Olympic Games. Despite the long odds, Team USA carried the pride of a nation yearning from a distraction from world events. With the world watching the team rose to the occasion, prompting broadcaster Al Michaels' now famous question, to the millions viewing at home: Do you believe in miracles? Yes!"
wonder why i'm doing movie reviews. maybe I'm just bored. maybe because its a relaxing off day. For once in this current hectic life.