BAm bam bam bam. I'm 17 and a day old. And I feel.. older.
So calleed sweet 16.. wasn't very sweet also.
Except for that rockin' Switchfoot Concert. XXXD
Yesterday was just another day, the same.
Spent my early morning with Chopin's Scherzo no.2 and then with Mrs. Elizabeth on alkanes, alkenes, margarine, whatever.
And then lunch with my mum on the stonegrill.
And then Physics with Mr. Yip. I like Waves.
And then dinner at Secret Recipe. You see, JB only comes with these selection of food. Nothing much interesting.
And then when it was rather late, I cut the cake and my mum, dad, and I forced some chocolate cake into our already-full-stomach. Gonna gain some fats, again. >.>
And today the past year students came back to secondary to get their SPM results - which really gave me an adrenaline rush - because soon I'll be in that position - very soon.
=D I WANNA GET OUT OF HERE HEHEHEHE
and i want a cheap Volksvagen beetle.
By the way, nice pic here, live in Singapore. Got it from my cousin's facebook picture album.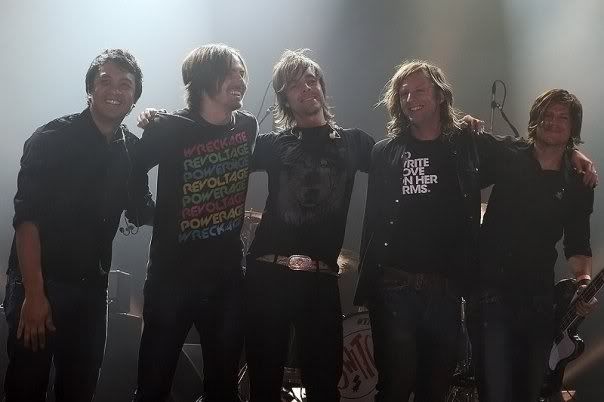 Wikipedia, on the article "Ambidextrous" :Surfers who ride equally well in either stance are said to be surfing "switch-foot."
Sometimes I switch-hands. =D