Although its Teacher's Day and I know that I can be excused from school (no class, heh) but somehow I managed to attend the last Teacher's Day in Secondary School.
Wanted to get some good sleep after going through a few insomniac-nights.
Lets get things clear, I don't do hardcore studying.
I'm just going through coffee symptoms. All kinds of it.
I drink coffee at night, and I force myself to sleep at 4 plus.
Heheh.
The only reason I go for coffee at night because I don't know how my day pass so fast with me doing nothing useful. School books stare back at me in the day but somehow when the day is quieter, at night, then it will be the time I can stare at every word in the book =D
SO teachers day huh.
I slept in the stuffy hall during the speeches. Wanted to hear what Fann said during her speech but sadly, I was asleep in the stuffy, dark hall once Encik Azmi started reading the PPD's head of Department's (whatever his name is) speech.
After the speeches the teachers sang a few songs.
1. Guru Malaysia (? , nice name)
2. Standing in the eyes of the world (or whatever the name is, its an Engrished-Malay song, lol)
3. (And the very famous) Lemon Tree. (Don't even know why we had to sing this song in the morning during assembly once in a while, and now popularized on teacher's day =S)
These teachers were cute though. For once acting like kids. (Except my Physics Tuition teacher who seems like a kid every week we meet him for lessons)
Then there was this concert thing where the students can perform an item on stage.
I have to admit that the lower secondary kids are becoming bolder, in the fact 60 percent of the performances were done by them. Unlike our batch and the pass years, lol. Seniors were the one performing.
Harveena and Sara's group choreograph dance for Interact's I.U. Day was called up to perform, without notice, after a group of lower secondary girls perform a dance with the same song they used for their dance.
Me, I'm just happy for them. Really. Although I don't dance, this is what I call a good one. An interesting one.
*claps*
(Because I saw many Terrible and Boring ones too, and I'll be one of them if I ever enter that world LOL)
Hope I'll get the video of it Real soon.
As when some boring fellas were performing on stage, Sarah Wong was doing Sudoku, and I was struggling with some add maths questions, at least I utilize time.
Then the teachers and some students played telematch.
The balloon bursting part was nasty.
I personally hate balloons bursting in my face. lol.
And the Musical Chairs.
Woah. Somehow its a very fun game to play. Really.
Especially if you win, its totally satisfying. I did win a few timesXD
The teachers played like any other kids who would want to win in a musical chairs game. heheh.
After that we went to our classes for some food, and then headed home.
That's about teacher's day this year. Guess its nothing much different compared to the previous years, least that's all I can rememberXD
I think I need to say a really big 'Thank You' to a few teachers whom I remember well and who really helped me in any way during my Secondary School journey.
(Not in order)
Puan Geetha - Physics Form 5, PK Kokurikulum.
Cik Masliana - St. John Teacher Advisor.
Mrs Ignitius - Interact Club Teacher Advisor, St. John Teacher, Add Maths Form 4.
Mrs Lee - Maths Form 3, Add Maths Form 4, Add Maths Form 5.
Auntie Lee Fei - Science Form 2, Science Form 3, Maths Form 2.
Teacher Karen - Intensive one month PMR Malay
Mr Hor - Chem Form 4.
Mr Lim - Chem Form 5.
Mr Yip - Physics Form 4, Physics, Form 5
Speaking of Mr. Yip. =P
Fann and I agreed that his an eccentric person, although very good in physics.
Lol.
He walks in class with a cute knapsack. Like how a little standard one boy would walk into school.
Sometimes he comes with a shoulder bag.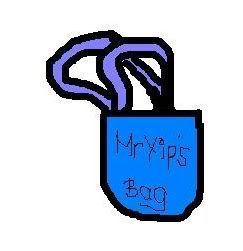 And once got wrongly accused of being a gay person by my mum, but of course she wasn't serious about it. Lol.
And the students must be familar with his quirks during teachingXD
From the view from our seats, I can clearly see what he uses to clip his microphone to his shirt collar.
a green bird clip.
So I was contemplating on whether to give him these: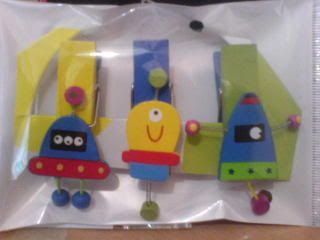 "Thanks for being a good Physics teacher....cool clips for your mic!"
LOL. Fann said she'll share it.
So it's on. =D
This will be my last year calling someone who teaches me 'teacher' or 'cikgu'.
Next time it will all be 'sirs' and 'professors'. (yes, if I managed to qualify for tertiary education that is.)
It isn't easy to become a good teacher.
Its hard.
So to all the teachers out there, big or small,
Thanks for your hard work.
Otsukaresamadeshita.
And Happy Teacher's Day.